---
Oven features

HomeMade shape
All the qualities of baking in wood-burning ovens
The characteristic rounded shape is one of the most beneficial features of Gorenje ovens. Inspired by traditional wood-burning ovens, it enables hot air to move around freely. Since the food is heated evenly and from all sides, it is always perfectly done: crispy on the outside and juicy on the inside. In superior models of ovens this shape is combined with the MultiFlow 360˚ ventilation system, which enables baking on all 5 levels.
---

MultiFlow 360˚
All sides are good sides
MultiFlow 360° guarantees the optimal circulation of heat within the oven. Due to smartly positioned ventilation openings on the back wall and the unique round shape, air is spread evenly throughout the oven. The fan pushes hot air around the entire oven volume, making the food perfectly baked on all sides. The dynamic air movement allows simultaneous baking on many levels without smells and flavours mixing together.
---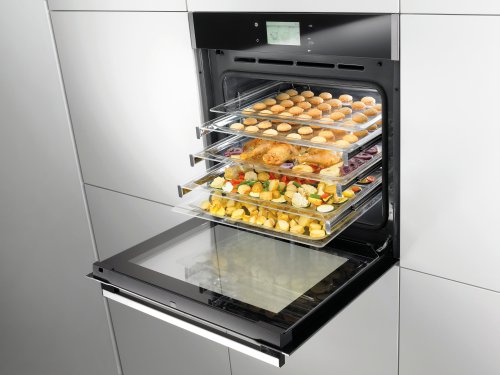 MultiLevel baking
Many dishes in one go
Combination of MultiFlow 360˚and HomeMade shape in some models of Gorenje ovens helps reach the toughest objective: preparing up to five trays of dishes at once. The good news is: the flavors and smells don't mix. Smart air distribution ensures that the food is evenly baked on every level. Since the oven volume is larger, the overview is excellent as well.
---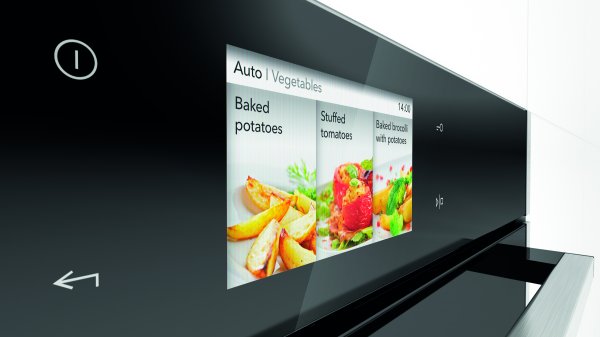 AutoProgrammes
»Select, touch, done«
Gorenje ovens provide fully automatic cooking program with over 80 recipes to choose from, ideal for beginners. The secret of auto mode is quite simple – all the parameters such as time, temperature, heaters, are automatically set. All that the user needs to do is choose the dish type and weight and press start. The oven will do the rest.
---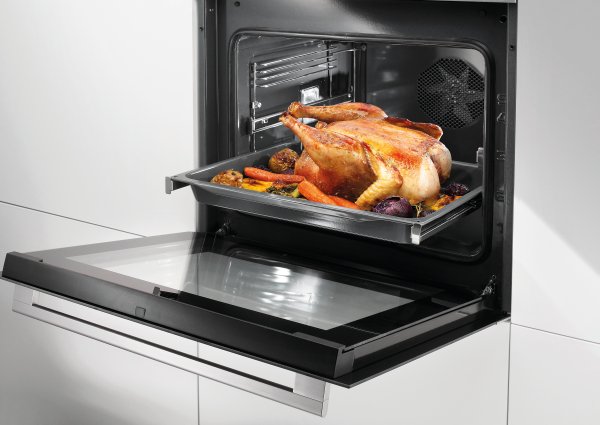 BigSpace
More space for greater cooking freedom
The new generation of Gorenje ovens conceals a shape within the upper part. Now the optimised airflow circulates inside at an even greater volume, circling completely freely. The increased capacity allows preparation of larger baking trays and larger quantities of food, while their outside dimensions remain the same. Instead of the previous 3, the Superior oven now enables using 5 levels at the same time. Capacities range up to 75l in standard ovens and up to 53l in microwave ovens, which is amongst the largest available on the market.
---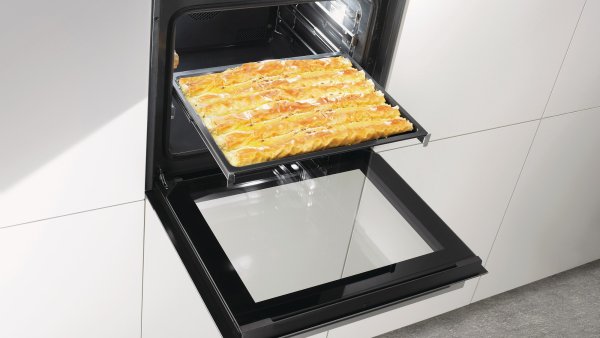 SuperSize
Ready for XXL recipes
More spacious ovens allow you to cook a larger quantity of food – not only because of even air circulation at all levels, but also because of the 46cm wide baking trays in both standard and compact ovens. Innovative solutions allow a larger interior and the oven width is fully used. There is more space on each baking tray and the superior technology makes sure the food is cooked evenly on all levels.
---

Step by step
Perfect food in 2, 3 or more steps
Cooking in phases is achieved by manually programing the many steps of the baking process. Throughout all the steps of the automatic cooking process there is no need to change the settings manually. It is also ideal for more experienced users and for dishes like bread and lasagne, which need temperature changes.
---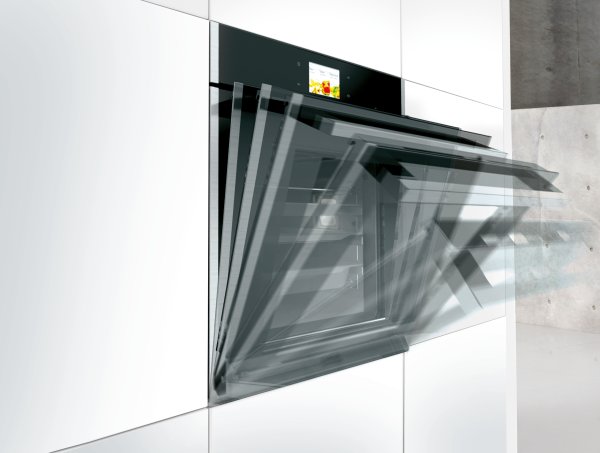 GentleClose
A soft touch is enough
Only a soft touch is needed to close the oven door smoothly, without any noise.
---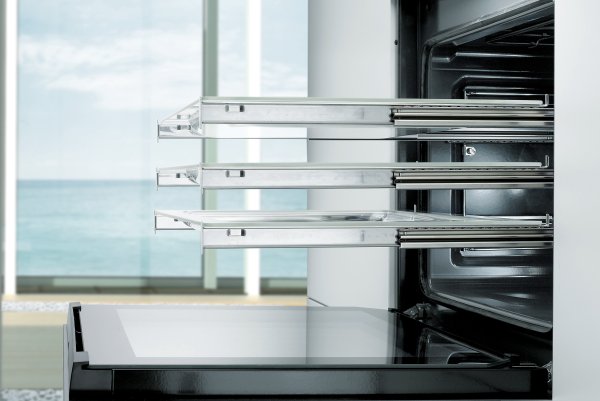 TelescopicGuides
Inside, helpfully coming outside
Smooth running telescopic guides provide a perfect overview of the process on all levels. This means safer and easier removal and cleaning. Gorenje ovens feature fully pulled out guides on three levels in Superior line. During the pyrolytic cleaning, they should be removed from the oven.
---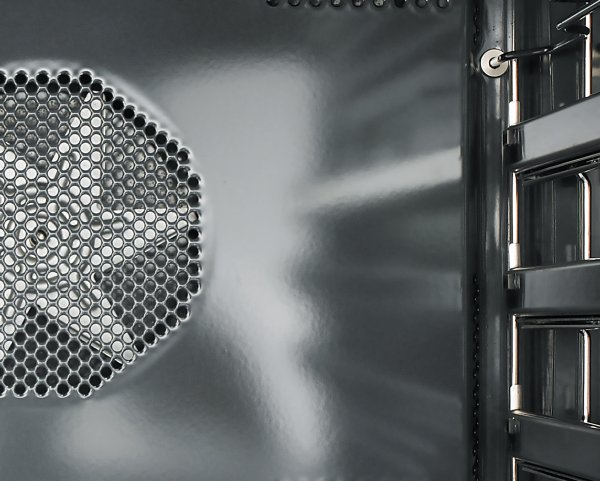 SilverMatte
Ultra resistant, ultra smooth coating
Enamel quality and type are exceptionally important for the oven and its operation. SilverMatte is a highly resistant and strong material that can stand extreme heats, even pyrolytic cleaning at 500 °C. Free from micro pores, it coats oven surfaces and baking trays, making them resistant to the highest temperatures, microwaves and steam. The triple coating of the interior supports heat reflection and provides additional insulation. Therefore, the oven interior always stays sterile and safe.
---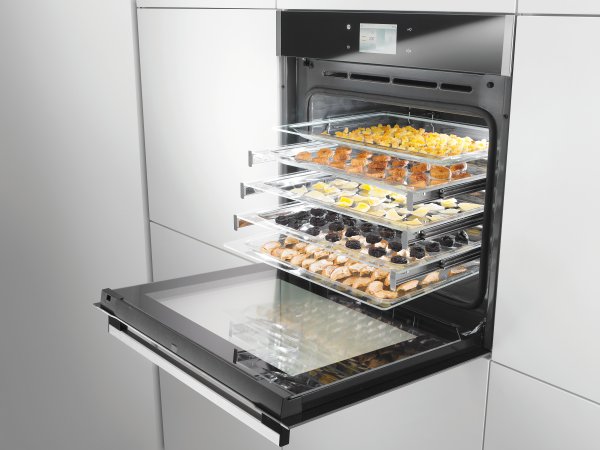 Dehydration
Great food, always at hand
Dried fruit, vegetables, herbs and meat can be easily prepared at home. Dehydration is possible on up to 5 shelves at the same time, which saves time and energy.
---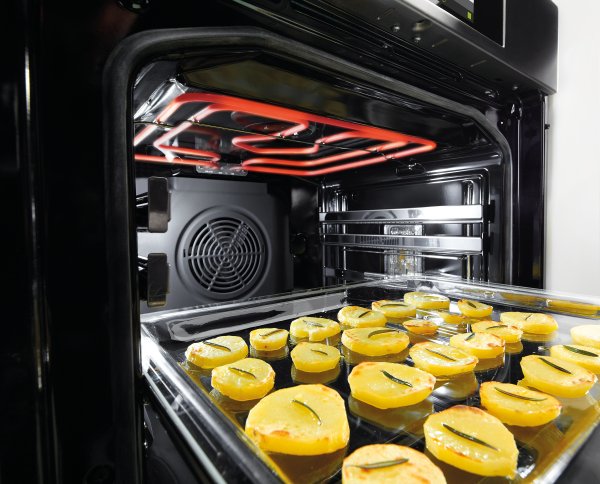 PerfectGrill
A double heater for evenly crispy food
The best baking results are achieved with a combination of larger and smaller heaters, where the latter is positioned inside the larger one. The smart positioning of the heaters allows optimal heat distribution and provides the ultimate baking results every time, so food is crispy on the outside and soft on the inside. A variable heater combination can use either the inner or outer heater, or both at once. In advanced models, the heater is movable for easier cleaning and maintenance.
---
Hood features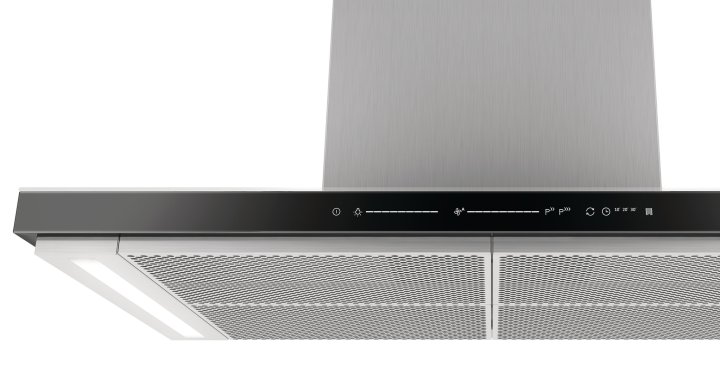 AdaptAir
No smell. Just air.
Patented AdaptAir technology ensures completely even air extraction over the entire hood surface. Steam, smells and impurities no longer enter the kitchen air.
---

A special innovative slider enables easy and instant changes between different power levels and lighting intensities.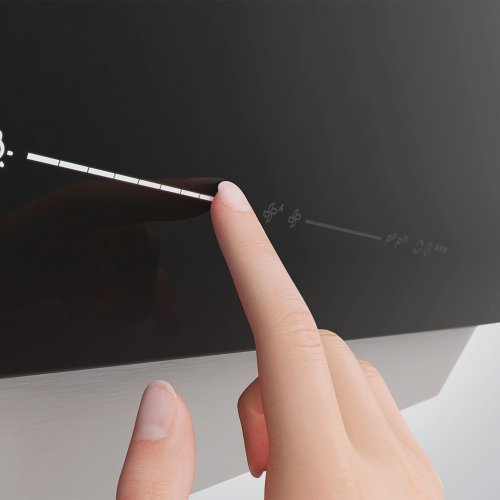 ---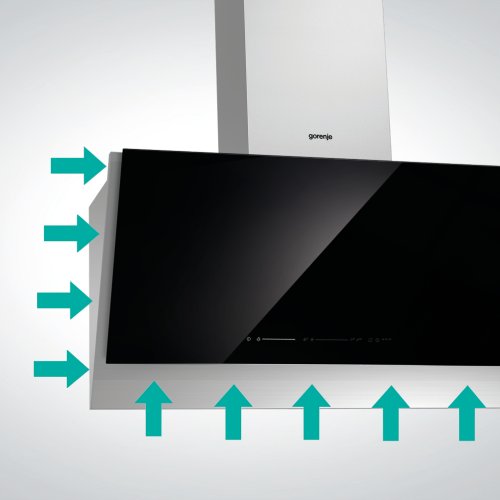 P.A.S. System
Many dishes in one go
Combination of MultiFlow 360˚and HomeMade shape in some models of Gorenje ovens helps reach the toughest objective: preparing up to five trays of dishes at once. The good news is: the flavors and smells don't mix. Smart air distribution ensures that the food is evenly baked on every level. Since the oven volume is larger, the overview is excellent as well.
---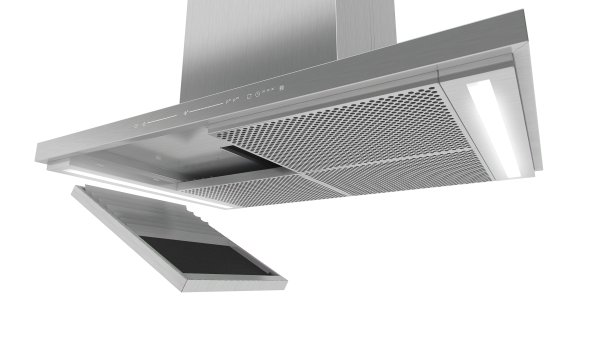 Polyurethane filter
Benefits of polyurethane foam
Unique AdaptAir and aluminium grease filters are enhanced with a special polyurethane foam that eliminates up to 98% of all grease particles and other impurities. At the same time, the hood maintains its absorption efficiency.
---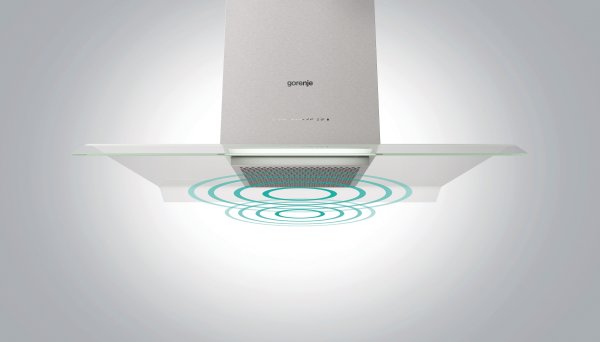 AdaptTech
Automatic fan operation
A special sensor, when in automatic operating mode, senses the level of impurities or steam, humidity and gasses and responds suitably. It automatically adjusts the fan speed accordingly or, when it is no longer needed, even completely stops the fan.
---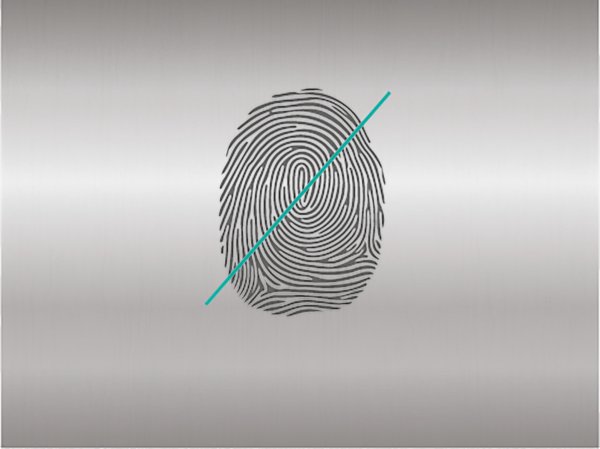 TouchFree coating
Shiny and fingerprint-free finish
All stainless steel surfaces are coated with a special TouchFree film that prevents fingerprint markings, leaving the surface always shiny and making cleaning much easier.
---

Timer and refresh
Always fresh and punctuals
Special advantages of new Gorenje hoods include setting the timing for automatic switching off and the refresh function which is activated every hour, refreshing the air for 10 minutes.
---
Microwave ovens features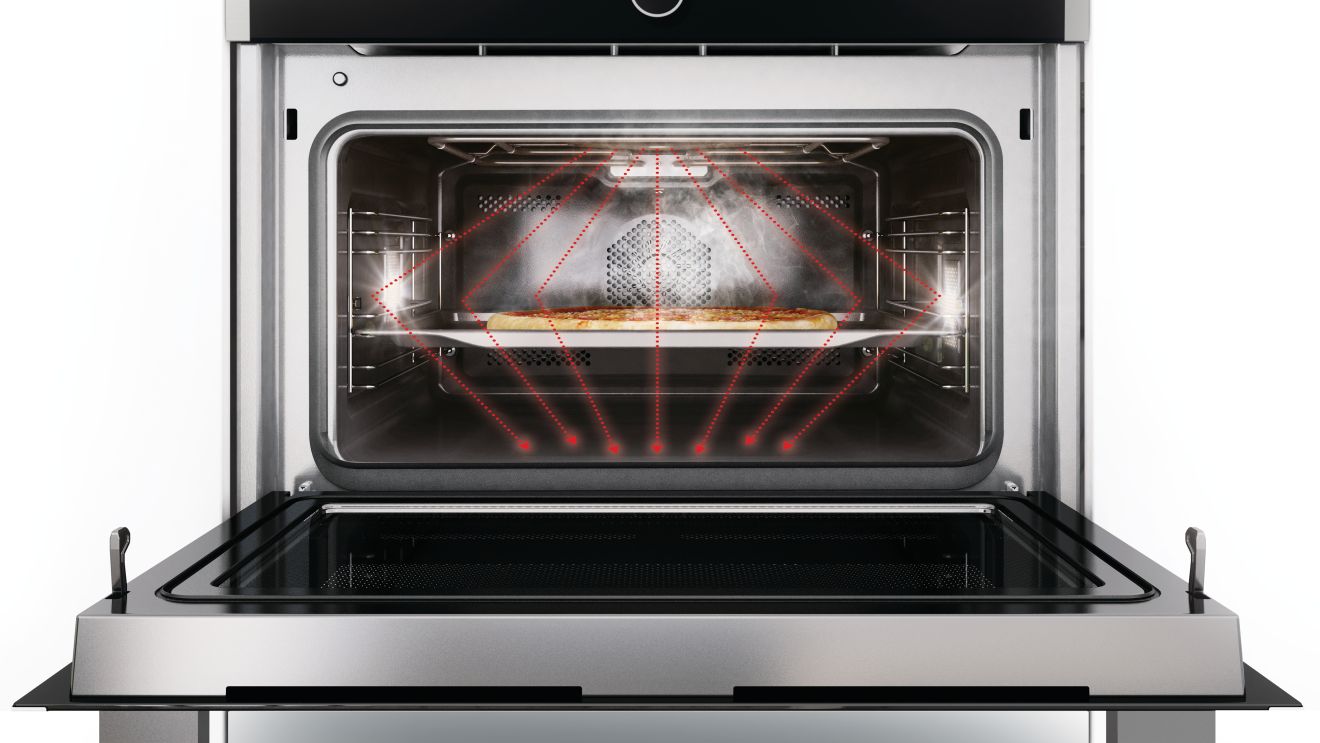 Stirrer Technology
Trays of all sizes are welcome
The Stirrer technology permits a standard-size baking tray to be placed in a microwave oven. The oven's entire width is used, saying goodbye to conventional turntables and uneven heating. The advanced microwave distribution system heats the food uniformly across the entire volume. Stirrer technology is available in both combi and standard microwave ovens.
---

Inverter Technology
Gentle treatment for tastier food
Because of Inverter technology the energy is evenly distributed instead of pulsating. As a result, the food retains its initial structure, including its vitamins, minerals and fibres. The advantages of the even energy distribution are particularly welcome when reheating or defrosting, and when cooking liquids. The overall microwaving time is shorter, which lowers energy consumption as well.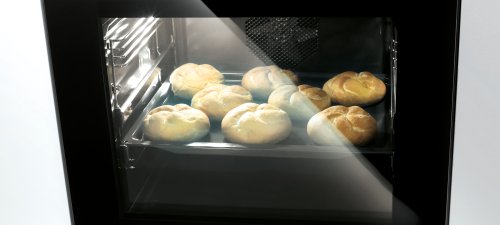 ---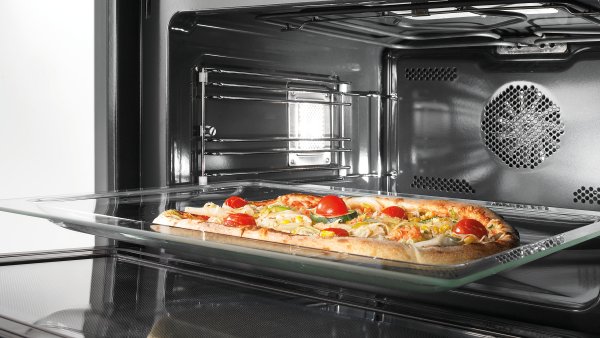 MultiUse
Microwaves, hot air and grill at your disposal
Built-in combined and microwave ovens deliver all the advantages of microwaves, hot air, and grill. The five-level microwave power setting speeds up the cooking process while the hot air makes sure the food is well done. Combined operation, using grill and hot air at the same time, leads to excellent results when cooking large chunks of white meat, while grill and microwave combination will speed up roasting smaller chunks of meat, baking pizzas etc. Built-in microwave oven can also be used as a conventional oven.
---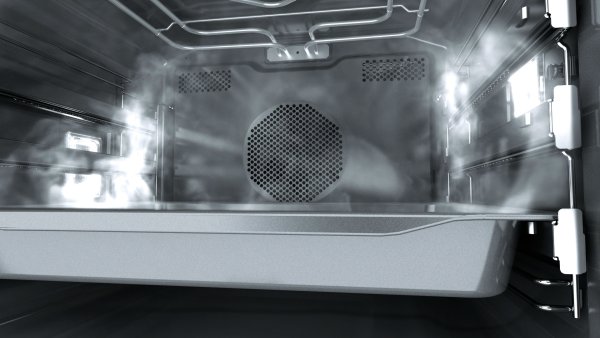 AquaClean
Simple, casual cleaning
Due to completely new enamel in all lines of new Gorenje ovens, AquaClean function has been significantly improved. AquaClean offers great assistance in cleaning the oven cavity. All it takes is to pour half a litre of water into a baking tray and turn AquaClean on after each baking. In just 30 minutes, the results are visible on the entire surface and the baking trays. Stains and grease are softened and can be easily wiped away.
---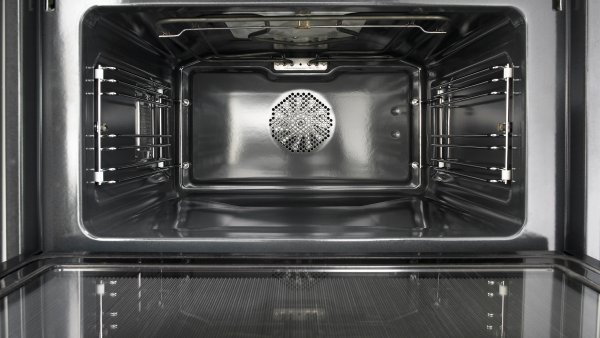 Smooth door
Microwave oven door is free from any notches or edges that could harbour impurities. The interior glass panel is removable. Such design allows keeping the door clean even with simple wiping.
---
Hob features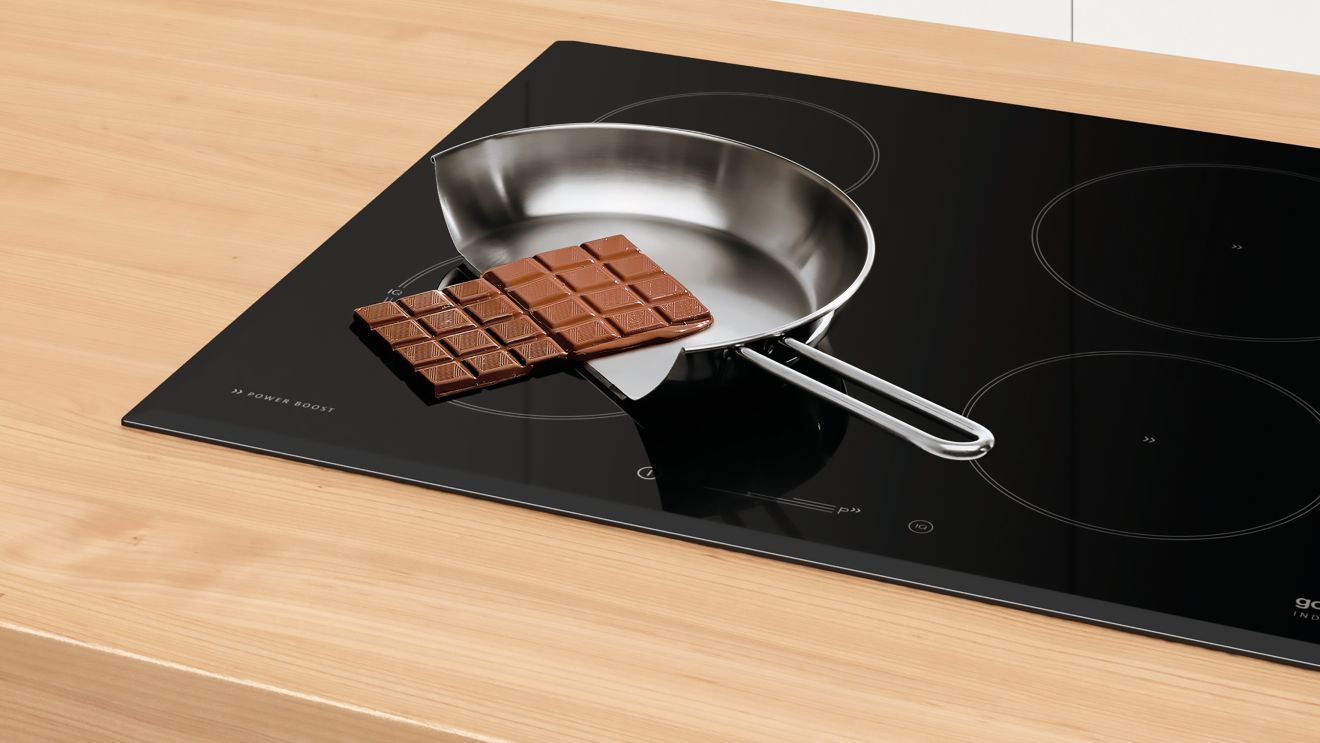 Induction hobs
Induction hobs heat up twice as fast as gas cookers, which makes them comparatively more economical and safe. An induction hob only heats the bottom of the pan while the remaining hob surface stays cool and always safe to touch. Temperature is adjusted instantly, by a simple touch, limiting the danger of boiling over. With such a hob melted chocolate, sophisticated sauces and other temperature-sensitive masterpieces become just a simple task.
---

Cooking with a small quantity of water preserves vitamins, minerals and natural colour of vegetables. Believe it or not, all it takes to prepare 1kg of vegetables is 0,5dl of water.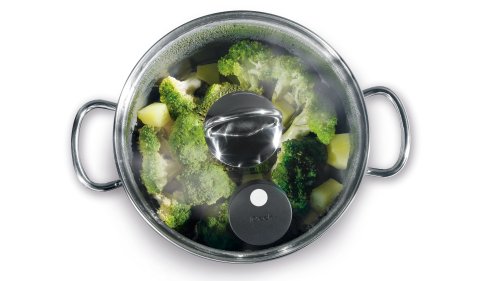 ---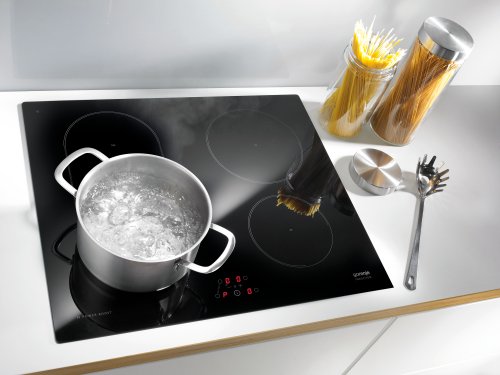 PowerBoost Supreme
When in a hurry, don't worry
PowerBoost Supreme provides extreme heat intensity to the pot and significantly cuts waiting time. It takes just 4.2 minutes to boil 2l of water, which is extremely time-efficient. This function is found in Superior models of Gorenje induction hobs.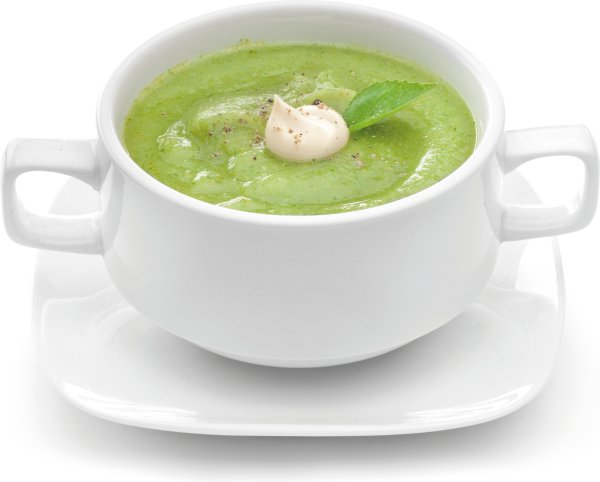 IQpro
A cooking marathon, made incredibly easy
IQpro offers a simple way to prepare dishes that require longer cooking times with slow warming up or cooking at a lower, constant temperature. Ideal for cooking dishes such as goulash.
---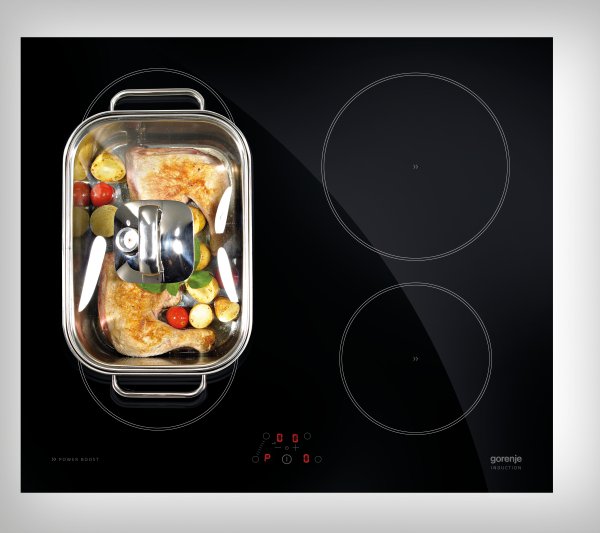 BridgeZone
A simple plan for super-sized pots
The induction hob with two connecting zones simplifies cooking in large-sized pots. Two separate cooking zones are bridged to form one with just a simple touch. Perfect for preparing bigger pieces of food and sides simultaneously.
---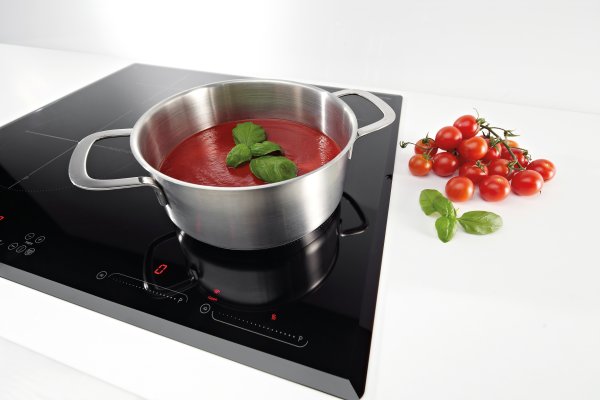 StayWarm
Staying perfect for the latecomers
The StayWarm function keeps food at a constant temperature of 70˚C until the time is right to serve the meal. The food retains its original flavour and temperature until it is served.
---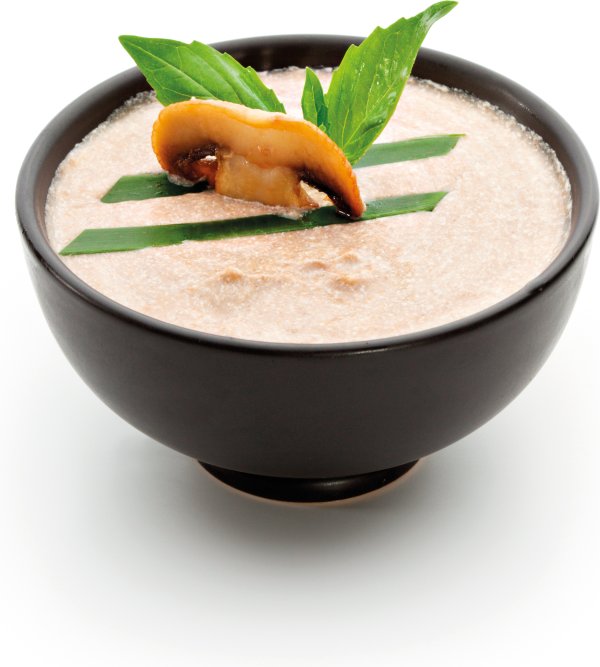 IQpoach
Exactly the right temperature
IQpoach keeps the temperature between 71 and 85°C and prevents overcooking. Food retains its natural colour, juices and flavour. The specific and constant temperature is ideal for recipes such as poaching an egg.
---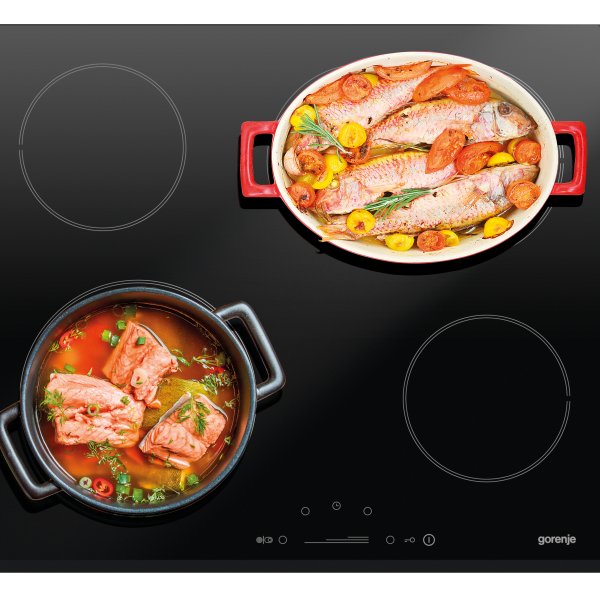 FishZone
An oval cooking zone, perfect for wider pots
Induction and HiLight hobs have an expanded zone called a FishZone. When turned on, the traditional round cooking zone turns into a larger and oval surface that is especially suitable for wider pots.
---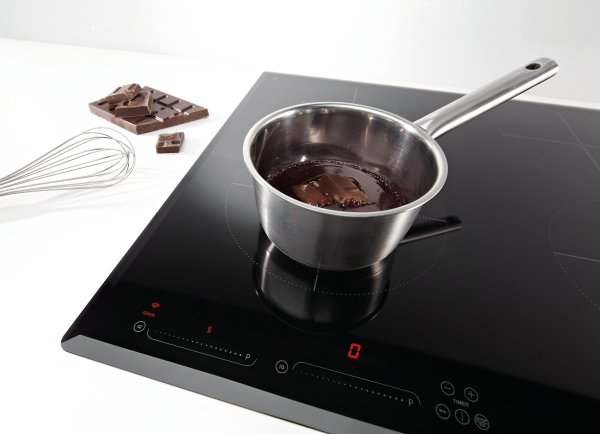 SoftMelt
One, two, chocolate
The SoftMelt function gently melts chocolate or butter at a constant temperature of 42˚C, thereby creating perfect conditions for melting, without burning.
---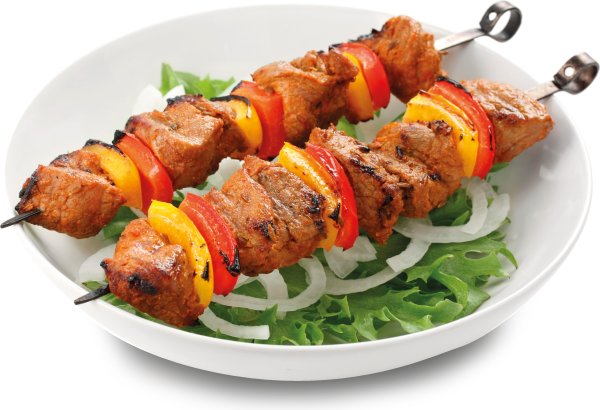 IQgrill
Perfectly grilled steak
IQcook makes grilling thrillingly simple, even with very little or no oil. It offers three levels of doneness and prevents food from burning. A simple way to the tastiest and healthiest barbecue ever.
---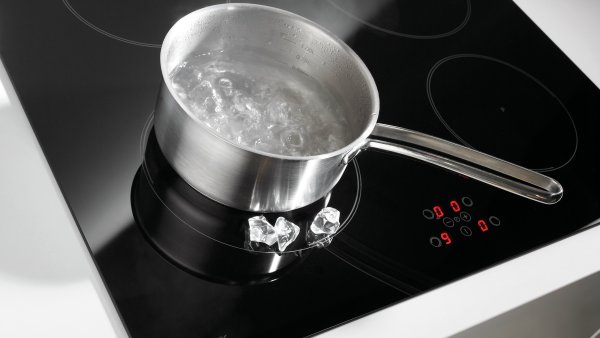 BoilControl
Boiling over as a forgotten problem
Automatically adjusts the operating power. After initially operating at maximum power, the cooking zone maintains the desired temperature to prevent boiling over or overcooking.
---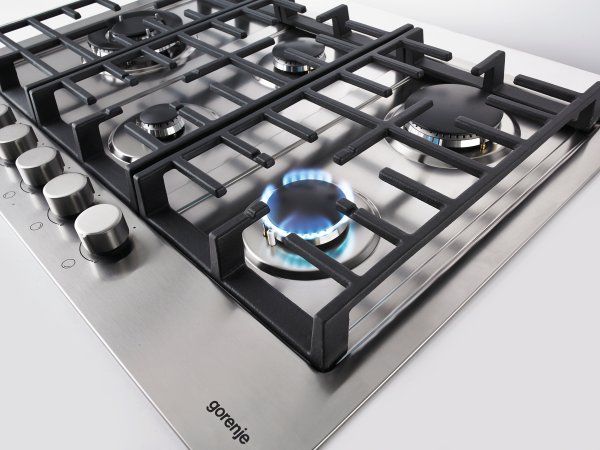 Gas hobs
Innovatively designed Gorenje gas hob burners optimize the flame to allow faster cooking and ultimate efficiency of the use of gas. Gas is always combined with air before it actually reaches the burner, so the use of gas and control of flame are considerably better than in conventional burners. Burners are cast as a single piece, which considerably simplifies cleaning.
---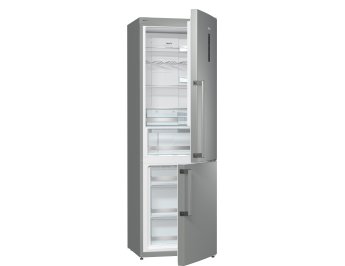 Refrigerators & freezers
Shop Now
---
Cooling features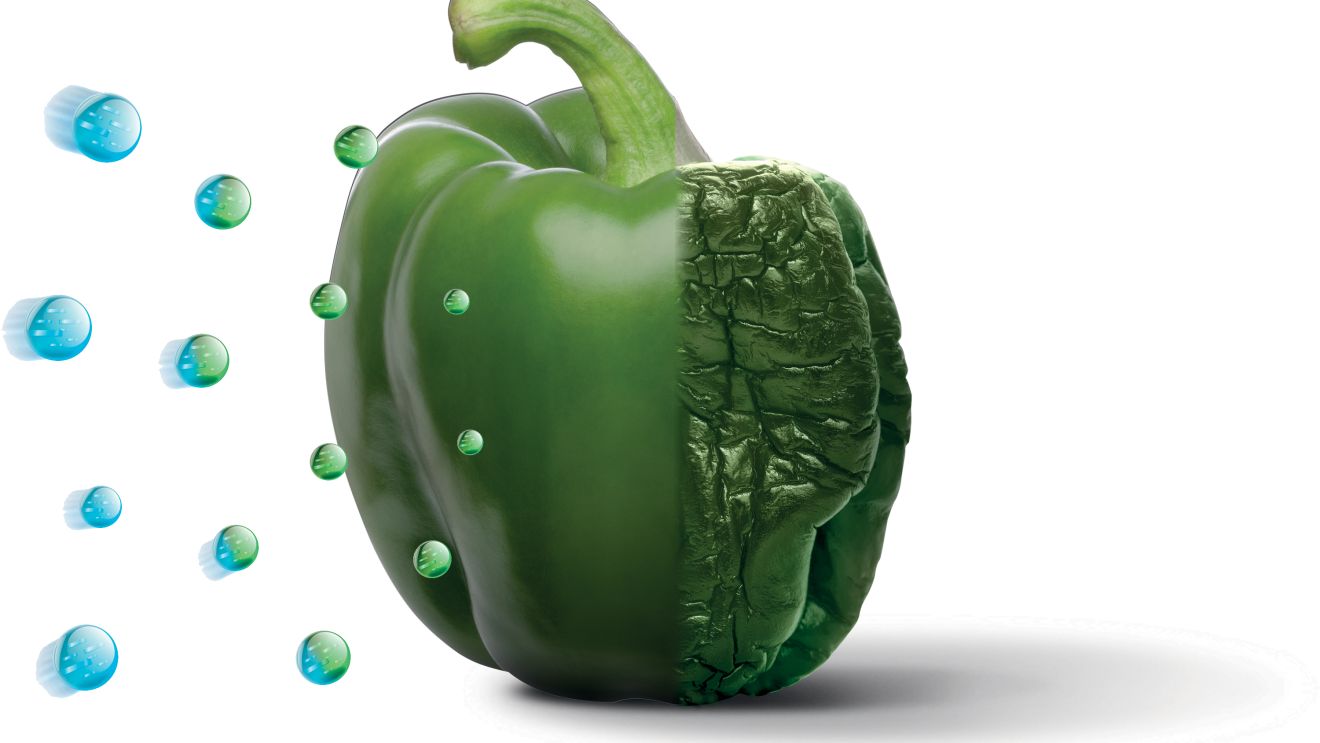 ION GENERATION
ION generation of fridge freezers definitely positions Gorenje among top brands on the market. Quality and value are perfected by materials, discretely designed lines, top quality shelves and numerous other functional improvements. When developing the range, we were especially dedicated to creating the best possible climate inside the appliance. The core of all our advanced solutions is IonAir technology, which completely mimics natural process of ionization and refreshes refrigerator air. In order to provide the perfect flow of that air through the entire appliance and bring oxygen into every pore, we have used excellent ventilation systems – MultiFlow 360˚ in advanced models and DynamicCooling in basic models of the new generation. The adaptive technology that we used is completely innovative and unique on the market. It is a highly intelligent sensor system, which keeps track of users' habits and maintains both the constant temperature and ideal climate. Welcome to the world of new ION generation of Gorenje refrigerators, made in the perfect cooperation with nature.
---

MultiFlow 360°
Intensive ventilation system
Our intensive regulatory system MultiFlow 360° actively balances air, humidity and temperature inside the refrigerator, making it the ideal environment for fresh food. Thanks to 14 ventilation inlets, an even temperature is maintained on each shelf, so there is no risk from food freezing anywhere in the fridge. Constant and even temperature on each shelf is the best thing you can provide for your food, preventing drying out and maintaining its quality. This amazing regulatory system purifies the air and saves energy.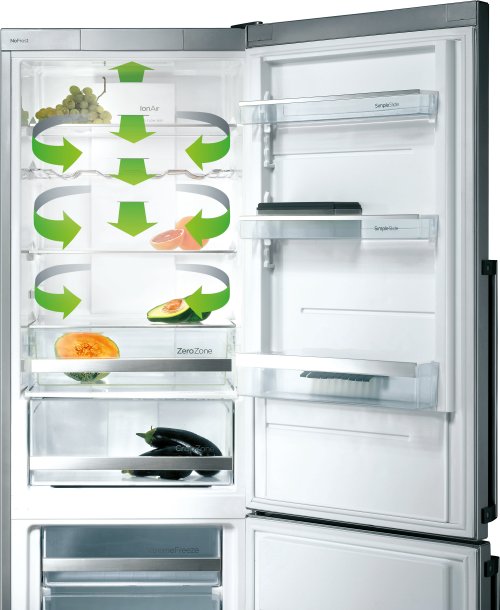 ---

AdaptTech cooling
Keeping the food fresh 20% longer
Adaptive intelligent system monitors, analyzes, and records the use of the refrigerator in weekly intervals. Then, its operation, especially maintaining of the set temperature and the resulting power consumption are adjusted to the identified pattern. When the door is opened, the temperature of the food will not rise as it does in conventional refrigerators; this will hinder the development of bacteria.
---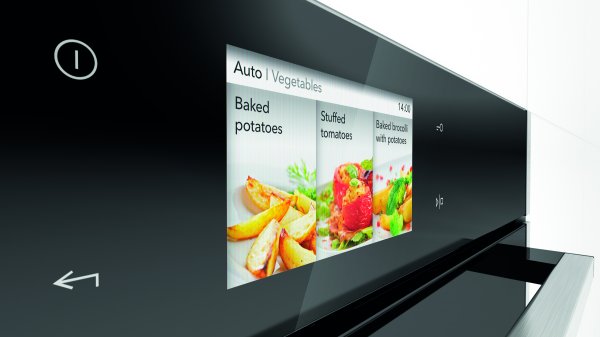 A+++
Top energy efficiency
All Gorenje fridge freezers are highly energy-efficient. Excellent thermal insulation and door sealing, inverter compressor, and electronic or mechanical control efficiently reduce power consumption. Fridge freezers with the A+++ energy efficiency rating use 60% less power than those in the A class.
---

SimpleSlide shelves
For both tall and short bottles
Height-adjustable shelves in the refrigerator door can be easily moved up or down to accommodate up to 5 kilograms of food of different shapes or sizes.
---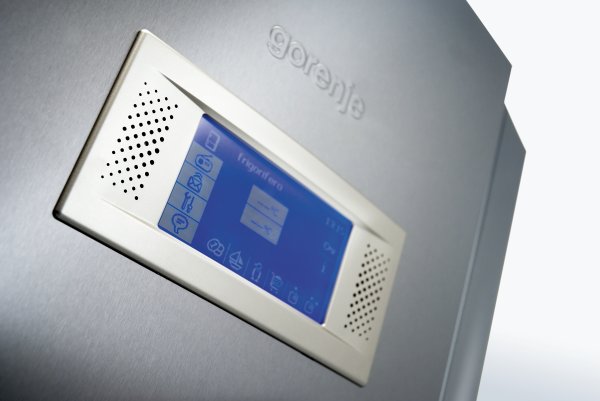 Touch control display
The Premium Touch models are fitted with interactive touch control screens, which allow you to operate the appliance in the language of your choice.
---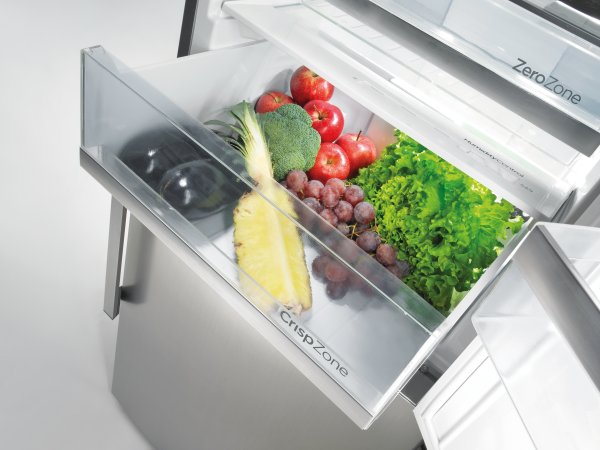 CrispZone with HumidityControl
Fruits and vegetables feel like in a garden
Fresh fruits and vegetables spoil and rot more easily than other kinds of food. In addition to keeping all kinds of fruits and vegetables fresh, this spacious drawer with a 36 l volume gives you the option of setting the humidity level. By setting the HumiditySlider, you can simply adjust the level of moisture, therefore prolonging the lifespan of these foods additionally.
---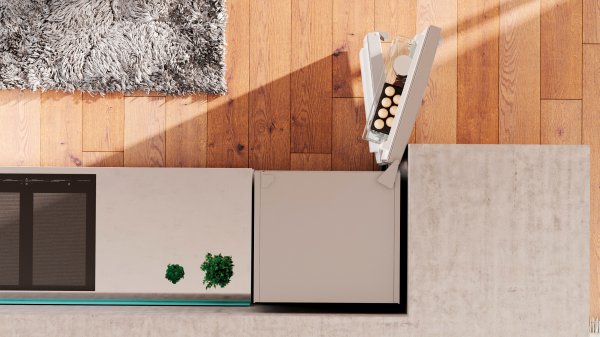 SlotIn
No limits for door opening
Owing to the functionality of opening the refrigerator door at a right angle, all shelves and bins can be fully pulled out. This solution is ideal for refrigerators placed against a side wall, or adjacent to a countertop or another appliance.
---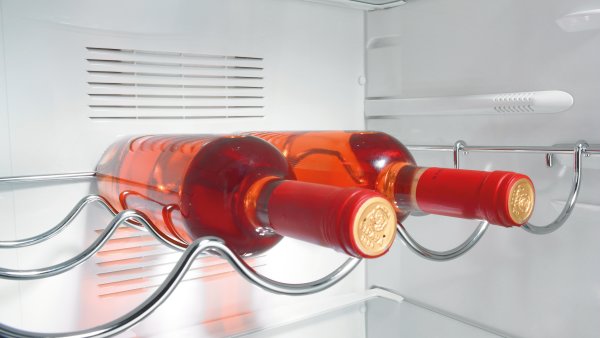 Rapid beverage chilling
Intensive cooling setting, paired with the Multiflow system that delivers cool air through the vents in the refrigerator back wall, can speed up the process of chilling bottles placed on a special holder – the bottle rack that allows optimum usage of storage space.
---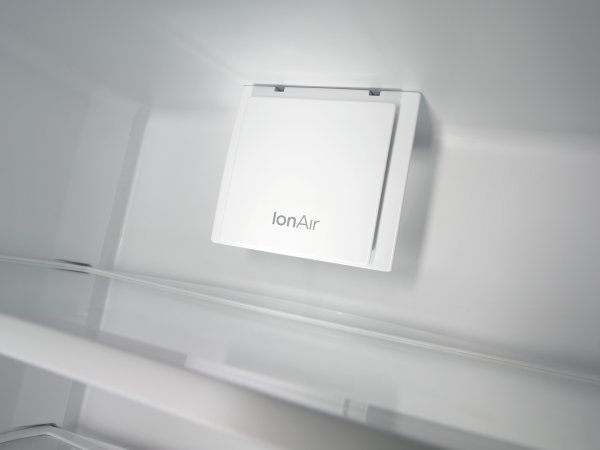 DynamiCooling
Even temperature in the fridge
Improved ventilation system functions according to the principles of dynamic cooling, maintaining even temperature in the entire refrigerator. Due to this system of operation, DynamicCooling contributes to energy saving and falls into category of ''green'' features. It is combined with IonAir in basic models, while advanced models operate on IonAir MultiFlow 360° system.
---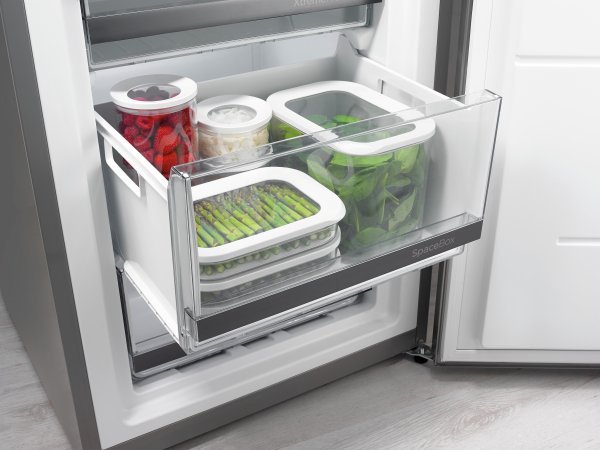 XXL SpaceBox
Enough space to store a turkey
This freezer compartment drawer is the largest in the appliance and it is ideal for storing large items like a turkey, several pizzas, or even cakes.
---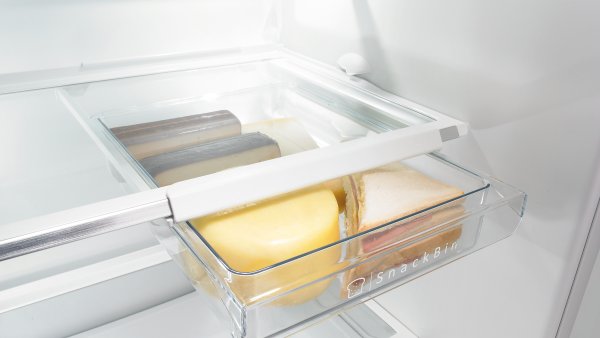 SnackBin
An ideal place for food storage
This is an ideal place to store food like cheese, salami, spreads, sandwiches and butter. It keeps the food fresh longer and prevents it from drying out. The bin on the lower side of the glass shelf can also be easily pulled out to be used as a serving tray. Sliding guides allow neat organization and clear view of the interior.
---

Inverter Compressor
Steady, silent, and durable
Inverter compressors are more silent, have a longer useful life and they are more economical compared to those with a conventional compressor. Whenever the temperature in the fridge interior rises as a result of door opening, the inverter compressor delivers rapid and effective cooling to prevent the food from spoiling.
---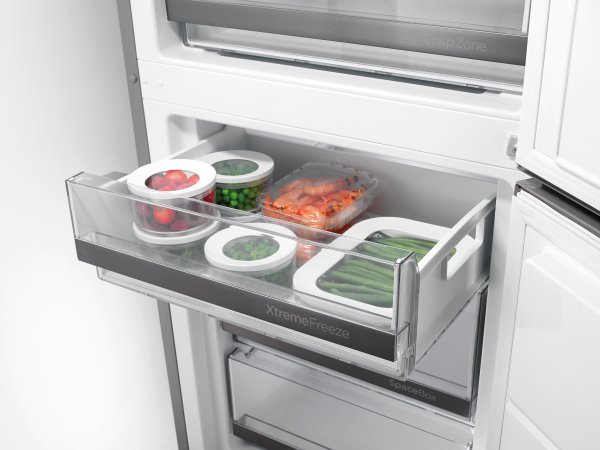 XtremeFreeze
Freezing in a flash
When this function is activated, the food placed in a special drawer in the freezer compartment will be frozen in half the usual time. Rapid freezing at extremely low temperatures below -30 °C leads to formation of microcrystals that, unlike in case of slow freezing, do not damage the cellular structure of the food. The shock-approach to freezing thus preserves all nutrients and the fl avour of the food. After approximately 1 day, the function is automatically switched off and the temperature in the drawer returns to the initial setting.
---

LedLight
Well-arranged and efficient
LED lighting in refrigerators provides excellent and highly efficient illumination. Its useful life is thirty times as long as that of conventional light bulbs, and it saves up to ten times as much power.
---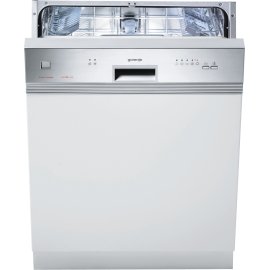 Dishwashers
Shop Now
---
Dishwasher features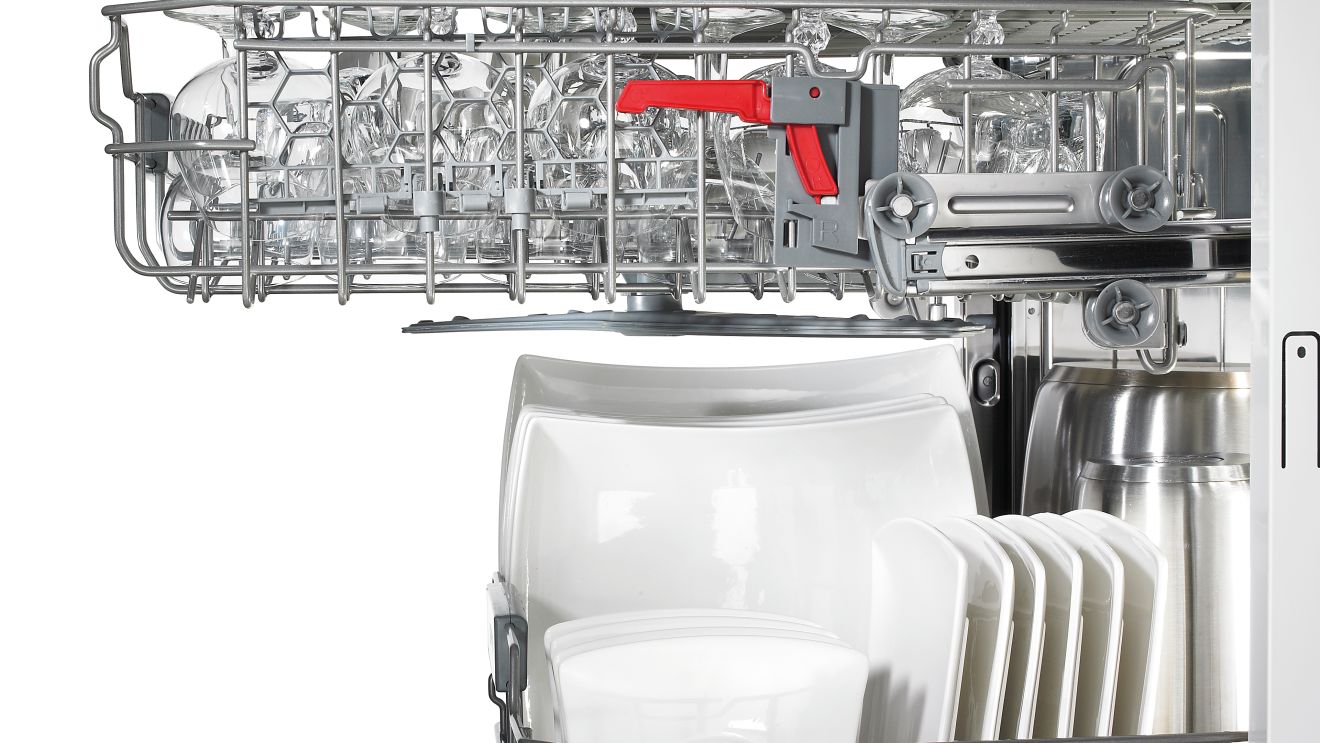 MultiClack system
Adjusted to every single pot
Upper basket height can be set to several levels. This is a simple solution for washing larger pots, pans, plates, or glasses.
---

SpaceDeluxe
Extra spacious interior
A convenient third basket allows washing up to 14 place settings worth of dishes at a time. It provides plenty of space for short and long utensils and coffee cups. Optimum layout affords better washing results, simple use, and puts the entire washing surface to use.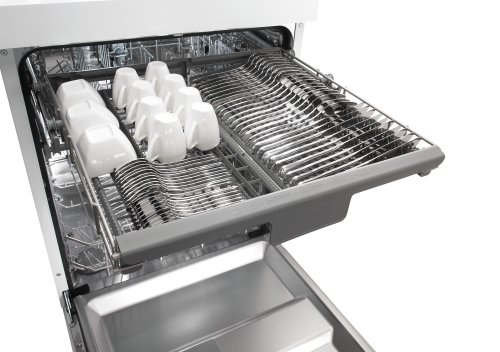 ---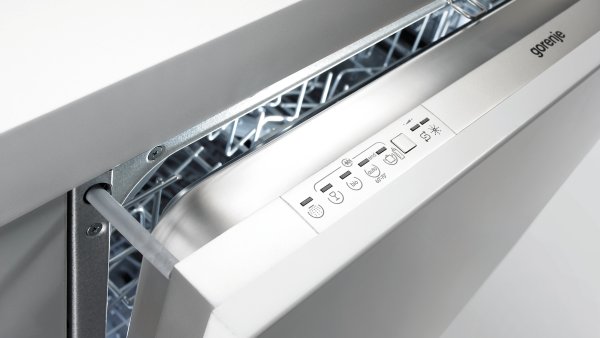 TotalDry, totally dry dishes
Always clean, always dry
Patented solution in the best dishwasher models makes sure the dishes are thoroughly dry and perfectly shining. After the wash, the dishwasher door automatically opens just enough to let the excess steam escape. Thus, the dishes will be completely dry and cool, ready to be stored in the cupboards.
---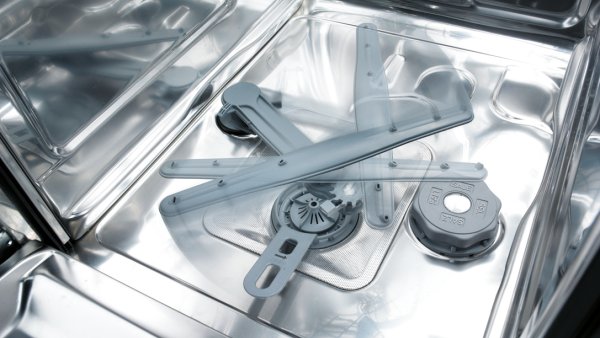 Twist System for outstanding cleaning results
Water where it should be
A special spray arm rotates fast and sprays the water through the optimally placed nozzles to distribute the water throughout the entire dishwasher. It is attached to a special support that provides semi-circular motion from left to right. As a result, the dishes are washed more thoroughly and the water and power consumption are lower.
---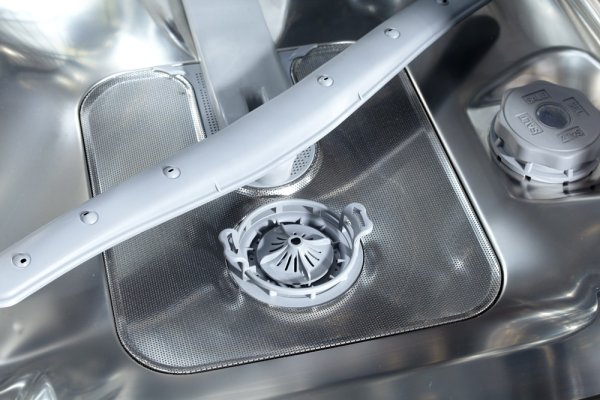 Self-cleaning filter
The automatic filter cleaning system washes out the food residues to prevent the filter from clogging, and thereby also any problems or errors.
---


AquaStop
In case of water spillage, the AquaStop safety system will automatically shut off the water supply to the hose and the machine, and the pump will pump out the remaining water from the dishwasher tub into the drain hose. Thus, the dishwasher may be left to operate at night or while nobody is at home, without any fear from flooding.
---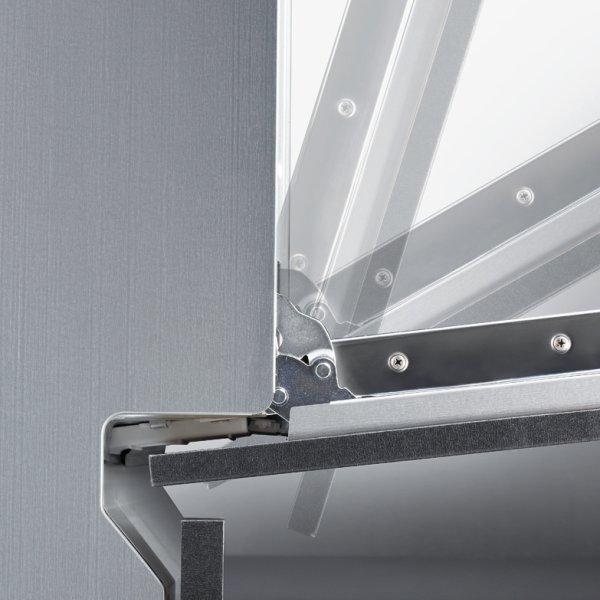 SmartLook
Dishwasher tailored to your kitchen
For easier installation and more elegant appearance of the bottom of the appliance, a special hinge first moves the door away from the appliance before opening it completely. This does away with the need for a cutout in the kickplate.
---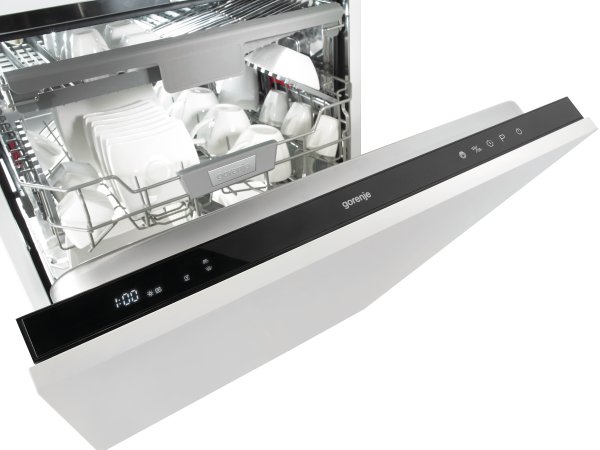 SpeedWash function
Clean dishes in half the time
This function will automatically adjust the temperature and amount of water to deliver optimum cleaning and drying results in the shortest possible time.
---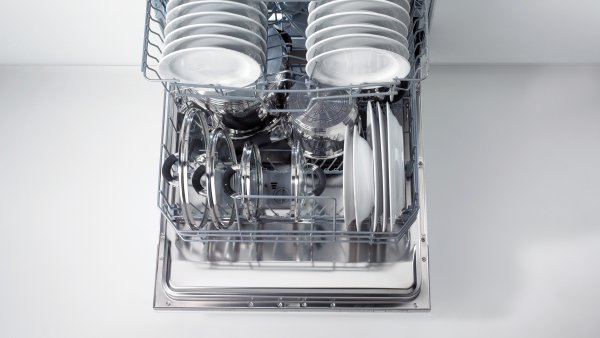 SpaceComfort
Unique design of the lower basket allows for great adaptability of the dishwasher capacity. Plate supports can be folded to obtain more space for pots and pans of various sizes. Special grooves on cutlery baskets enable moving it to further customize the space in the lower basket. Innovative solution leads to an impressive capacity of up to 13 standard place settings!
---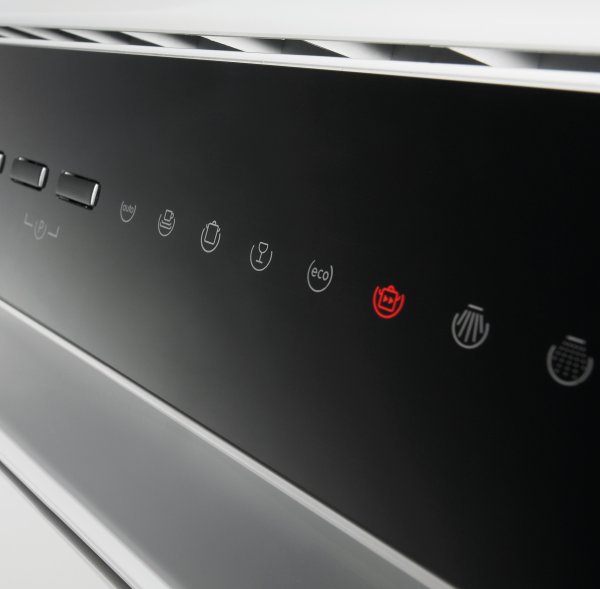 QuickIntensive
This programme, operating at 65 °C, considerably cuts the time required for daily dishwashing.
---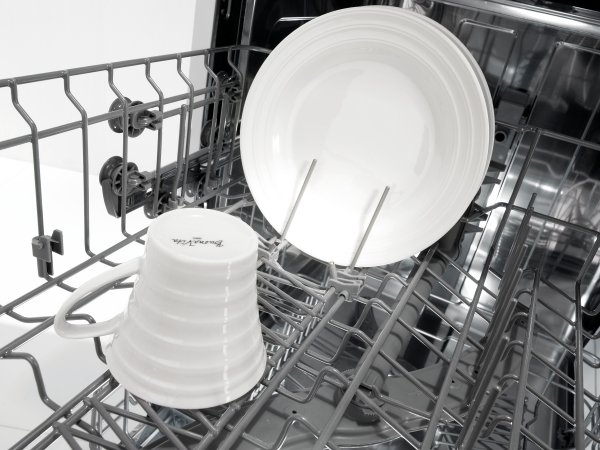 Adjustable baskets
Room for all shapes and sizes
Upper and lower baskets are adjustable to accommodate dishes of all shapes and sizes. The plate rack in the lower basket can be folded to allow more space for larger items. The lower basket also holds a special cutlery basket. The height of the upper basket is adjustable and it is also suitable for washing of the delicate stemware.
---