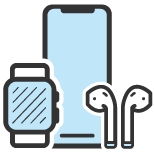 PHONES & ACCESSORIES
A mid range phone is a phone with features and specs halfway between budget phones and flagships. A typical mid range phone will usually share one important feature with its flagship counterpart, while the rest of the features will be on par with the budget phones. With mobile technology reaching new heights every year, mid-range phones have been getting better in quality and featuring increasingly better specs. A mid-range phone from today easily outperforms any flagship from a few years ago.
We put a lot of time and thought into deciding which phone to buy, bu what is often ignored is that adding just a couple of accessories to that same phone can significantly boost its performance, add new functions and change the overall user experience! The world of mobile accessories has been booming for the past few years as new gadgets and gizmos are being conceptualized to supplement and improve our mobile phone experience. When it comes to innovative phone accessories; chances are that if you can think of it, it has been already invented, patented, manufactured and shipped to an Xcite showroom near you.